THE MANDAN GHETTO

The Mandan Ghetto was a gallery set up in the spring of 1968 in a space on west 4th Ave. in Vancouver. It was located in a store front which had recently been used by painter Reg Holmes, who was moving to New York. The artists who set up the Mandan Ghetto were bill bissett (who created the name), Joy Long and Gregg Simpson. They contacted Andrew Dumyn of the Company of Young Canadians, a federally funded group who helped projects of a social or cultural nature during the late 1960's in Canada.

Many interesting exhibitions during the several months the gallery remained active, including the first show of surrealist collages ever held in Vancouver. This exhibition combined works by bill bissett, Ardis Breeze, Joy Long, Gary Lee Nova, Gregg Simpson and Ian Wallace.


Poster for

Collage Show


by Gregg Simpson
One of the most important exhibitions at the Mandan Ghetto was Brazilia 73, the first international exhibition of concrete poetry ever held in Canada. The name was from a poem by Gerry Gilbert in which his fellow poets were invited to meet again Brazilia in 1973 and continue the exploration of sound and visual poetry which this exhibition featured.

Works by Canadian poets bill bissett, Pierre Coupey, Gerry Gilbert, David W. Harris, bp Nichol, and Stephen Scobie with International contributions from Henri Chopin, Ian Hamilton Finlay, Dom Sylvester Houdard, Ernst Jandl, and the American, D.A. Levy. The exhibition was opened by Eli Mandel, then head of the Canada Council writing division.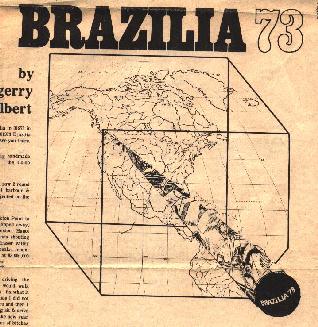 Logo for Brazilia 73 from a feature article in the Western Gate ,
a publication from UBC edited by Pierre Coupey.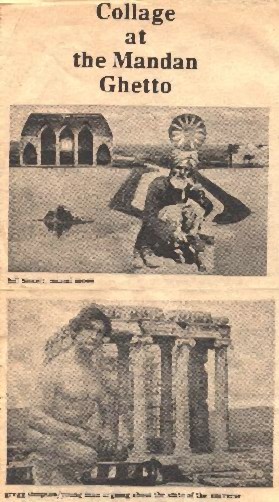 Western Gate 's front page displayed works from the Collage Show
(above) Miami Moon by bill bissett
(below) Young Man Arguing About the State of the Universe by Gregg Simpson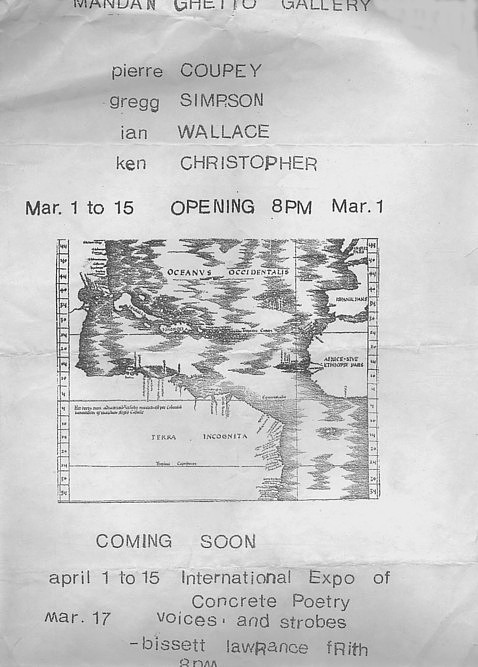 Poster for an exhibition of works by
Ken Christopher, Pierre Coupey and Gregg Simpson



---
Return to
Chronology of West Coast Surrealism