INTERMEDIA: An Illustrated Chronology
Assembled by Ed Varney and Gregg Simpson
Photographs by Michael Decourcy

Follow the Blog

Index:




<>

1965 Founding of the Sound Gallery at 4th and Bayswater in Kitsilano, Vancouver.
---
1966
Formation of Motion Studio, and WeCo multi media group.

The Trips Festival at the P.N.E.Garden Auditorium included participation of the members of the Motion
Studio: WECO light show by Sam Perry, Gary Lee Nova, Dallas Selman, Ken Ryan, and others. The
Al Neil Trio: Al Neil - piano, Richard Anstey - bass, Gregg Simpson - drums, opened for Janis Joplin with
Big Brother and The Holding Company, The Grateful Dead, The Quicksilver Messengwer Service, Daily Flash
and other local rock bands. Poets such as Michael McClure read and Ken Kesey with the Merry Pranksters
brought their famous psychedellic bus and camped out at Motion Studio.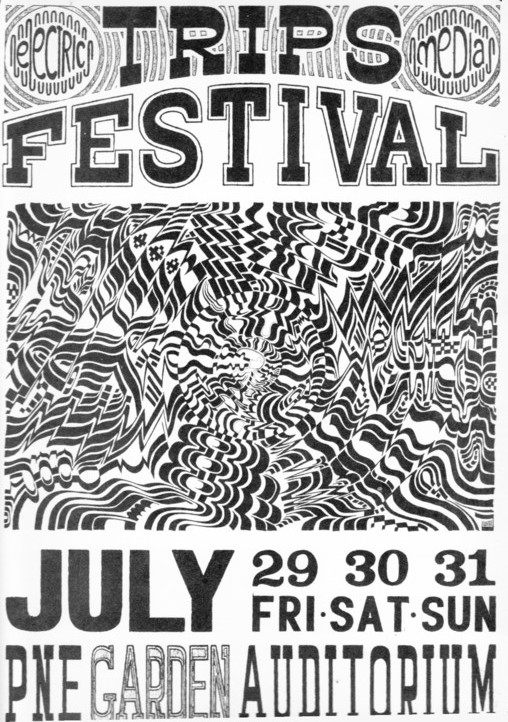 Poster for the

Trips Festival


Drawing by Jack Wise, poster by Michael Sawyer

Composer Gerry Walker worked in a studio in Kitsilano with Sam Perry and Gary Lee Nova who were
then collaborating on experimental 16mm films and projections; formation of the Helen Goodwin Dancers;
The U.B.C. Armoury show provided an outlet for many of the artists who went on to help form Intermedia
including David Orcutt.
The Board of the Intermedia Society formed. This board had Jack Shadbolt as Chairman and included among
others: Archie MacKinnon, Bud Doray, and Dave Orcutt. Joe Kyle was hired as the first Director of the
Intermedia Society.

---