THE VANCOUVER PUBLIC LIBRARY
MAIN BRANCH, Robson and Burrard, Vancouver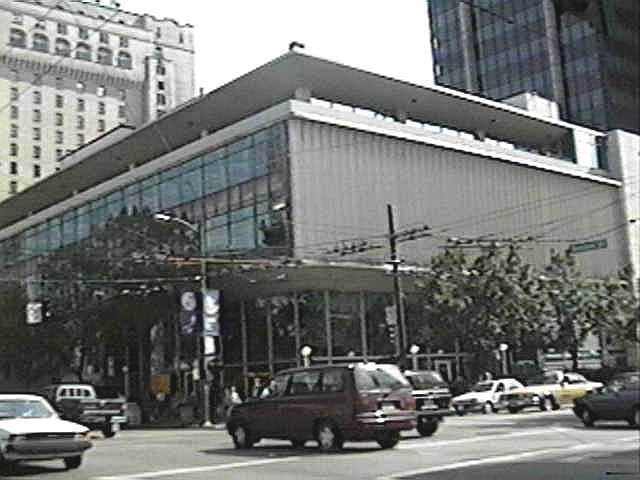 The Vancouver Public Library Main Branch
The Massey Award winning Main Branch Library, designed by Semmens and Simpson, opened in 1957 and was a state of the art facility for the time. The building had many prominent features including the black granite facing at street level, the louvered facade which shaded the interior from the afternoon sun, and above all the interior mural and decorative mosaic facing.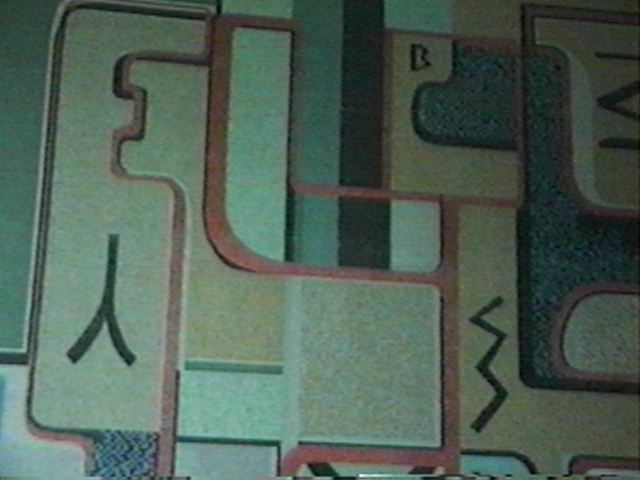 Runes
Mosaic Mural by Lionel and Pat Thomas
Unfortunately the only feature of the original building which was kept and restored when the building was sold in 1995 was the outside sculpture by Lionel Thomas. Those members of the architectural community with deep roots in Vancouver were horrified by the virtual demolition of the building. They see the new restoration as a faint echo of the original building. Now, to add insult to injury, Vancouver's intellectual heart, its library, is housed in a kitschy arcade filled with the smells of pizza.
Responsibility for this situation can be attributed to the following: Vancouver City Council, who, with the exception of Lynne Kennedy, did nothing to save the heritage aspects of the building and basically just used it to pay for the new library. Mayor, Gordon Campbell was almost eager to see the building demolished as he had already done a year or two earlier with the equally significant Federal Customs House, another classic Moderrnist-period building. Another unfortunate note was added by the architect of the new Main Library, Moshe Safdie, who undermined the heritage efforts by publically dismissing the building as "insignificant".
Then we have Edgcombe Realty and their clients, who bought the building. Although trying vainly to take some credit for saving Modernist heritage, they had earlier told the media that they" didn't give a damn about saving the art".
Thus a beautiful, elegant building was sacrificed, instead of being lovingly and respectfully restored, as they have done in Europe and in
eastern Canada to a much greater extent. We can only hope the fate of other buildings by D.C. Simpson and his partner, Harold Semmens will be handled better.
---
Return to Main Page